CCEP Project
The CCEP Project is an Environmental project started with a vision to promote and foster pro-environmental behavior and sustainable living.
Impact: An environmentally sustainable society
There is an increasing need for public participation due to the recent change in sources of environmental problems. Today, the sources of pollution have shifted from production to consumption processes. Growth in consumption and unbalanced consumption patterns have placed unprecedented pressure on the environment. The acceptance of pro-environmental behavior by the public, that is, to adopt a sustainable lifestyle, is an urgent issue in protecting the environment. The increase of participation of citizens means that legal frameworks would be more respected and economic mechanisms would be more accepted thus increasing their effectiveness.
Project Structure
The CCEP project is a scalable and first-of-its-kind unparalleled initiative. The Core Programme includes a Sustainable Living Training Programme, Super Class, Consumer Behaviour Shaping Programme, EWS Project and Multi-stakeholder partnerships to further the objectives of the CCEP Project. The Consumer Behaviour Shaping Programme ensures effective delivery of the Sustainable Living Training programme & SuperClass. The EWS Project is an extended programme under the CCEP Project that aims to increase the appeal of upcycled, creatively re-used, and repurposed products among consumers
Sustainable Living Training Programme
Sustainable Living Training and awareness-building workshops are offered to project participants to increase people's participation in pro-environmental behavior. The program aims to increase the number of well-informed conscious decision-makers, initiate climate change action at an individual level by helping people adopt sustainable living practices, and build the capacities of participants to further the project activities.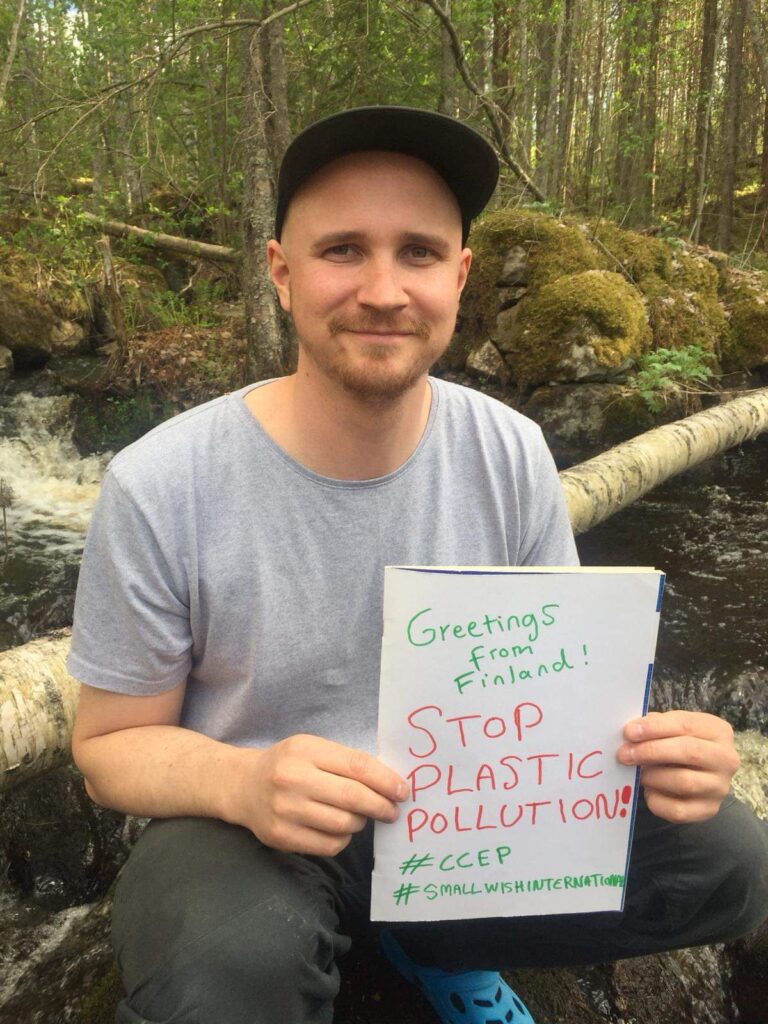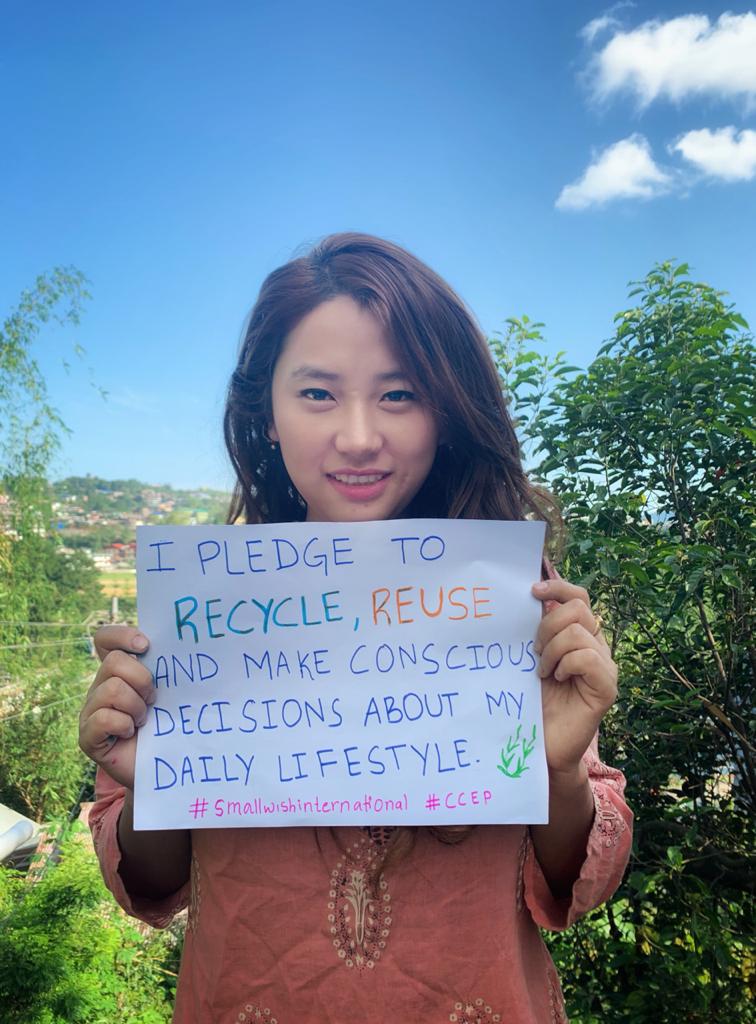 Consumer Behaviour Shaping (CBS) Programme
The CBS Programme is a Multi-Method Behaviour Research study that is designed to help us better understand consumer behavior and induce people to participate in pro-environmental behavior. The research will translate to metrics and indicators that can help us understand their level of awareness of environmental issues, consumer behavior from past and present traits, etc. The research will also provide better measurements of the future impacts due to human behavior trends and can help identify ways to sustain both human well-being and natural resources.
The idea behind the research programme is to build a detailed profile of the target group of people so that the CCEP Project can effectively deliver quality environmental awareness and successfully induce people to participate in pro-environmental action and collectively reduce the consumption pressure on the limited natural resources of the planet.
Super Class
The Super Class has been started for school students, to instill in them the knowledge and appreciation of nature and animals. Through Super Class, we plan to deliver quality environmental education to more than 2 million children by the year 2030.
The majority of the primary school's education curriculum fails to cover all the environmental issues sufficiently. There is a need for a curriculum that would include all possible educational cases based on environmental issues we face today. The Super Class offers information on various aspects like ecosystems, biodiversity, threats, and conservation measures with a specific focus to help children understand issues of wildlife conservation in the hope that they become future stewards of their natural environment.
Impact I: Improved students' consciousness of environmental issues
The idea behind the Super Class is to ensure environmental awareness at the school level in the brain development stages of a child. We are working to make environmental consciousness fundamental learning that comes into every act of a child, leading to informed concern for active participation in resolving environmental problems, ultimately making a great difference.
The Super Class is integrated with technology-enhanced teaching methods. As a part of the non-formal learning program, the school students are engaged in digital learning, which involves storytelling, documentaries, creative games, etc that increases their knowledge and awareness about environmental issues.
Impact II: Children grow up as environmentally literate citizens
The Super Class also delivers localized environmental education about endangered animals and rich natural biodiversity to the students. Special textbooks are used, and resources to learn about the ecosystem and endangered wildlife are provided during the interactions with the primary school children.
EWS Project
The EWS Project is an upcycling project that aims to reduce waste and increase the appeal of upcycled, creatively reused, and repurposed products among consumers. The EWS Project is an extended part of the CCEP Project. This EWS Upcycling programme diverts stuff from the landfill. Plenty of items that were once en route to the landfill are reclaimed by some very creative people.
Impact: Reduce waste by Reusing and Repurposing
We've become so used to things being mass manufactured that we buy things as quickly as we throw things away. Upcycling is reusing discarded objects or materials to create a product of a higher quality or perceived value than the original. Upcycling reduces cloth and textile waste by reusing deadstock or gently used fabric to create new garments and products.
We are upcycling existing resources to reduce the use of any new raw materials in the production process. Aside from minimizing the volume of discarded materials and waste being sent to landfill each year, it also reduces the need for production using new or raw materials which means a reduction in air pollution, water pollution, greenhouse gas emissions, and often conservation of global resources.
EWS Project Structure
The Core Programme includes an Artisans Training Programme, EWS Upcycling Programme, Green Points, and the Upcycling for the Underprivileged initiative. The Artisans Training Programme improves the level of craftsmanship of the local artisans and provides creative insights to repurpose old stuff into usable products.
EWS Upcycling Programme
The EWS Upcycling programme diverts stuff from the landfill. Plenty of items that were once en route to the landfill are reclaimed by some very creative people. The Project also helps rural, tribal, and local artisans especially women to improve their livelihood through upcycling.
Upcycled Handmade Scrunchies are made from strips of gently used fabric that we collect from people. Each scrunchie is lovingly crafted from premium quality fabrics and due to the upcycled nature of this product, they are offered in unique prints where each one is prettier than the next.
We collect pieces of denim clothing from people that do not fit and we give them a new identity under our repurposed denim products collection. We re-use the denim clothing we collected to make the backpacks, tote bags, shoe bags, etc under the upcycling programme.
We make available premium quality repurposed products for people to buy during fundraising events. To increase the appeal, we highlight the product's past identities because these are the beginning of their unique product biographies. Highlighting the repurposed product's stories is a model for pushing pro-environmental behaviors without stressing their pro-environmental benefits.
Upcycling for the Underprivileged Initiative
We have been upcycling and donating the products to create a combined impact by reducing waste, conserving natural resources, and at the same time benefiting the underprivileged sections of society.
Upcycled Scrunchies Gifted to Marginalized Women
We gifted upcycled scrunchies to specially-abled women. We collected gently used fabric from people, upcycled them, and made scrunchies. We have upcycled over 4000 scrunchies and have been gifting them to marginalized women.
Upcycled School Bags made for Underprivileged Children
We collected pieces of denim clothing, upcycled them, made school bags, and gave them to unprivileged children. The school bags are made from high-quality pieces of denim and will help children living in vulnerable conditions to keep their belongings, especially those related to the school, secured from being lost or damaged.
Green Points
Green Points are tokens of trade generated by a computation algorithm. One green point is equivalent to $1 USD. The idea is to use technology for binding upcycling activities, services, and product purchases inside the EWS Project. Consumers can use Green Points to buy items from the EWS Product Catalogue.
Green Points are awarded to artisans who supply or contribute items to the EWS Catalogue. Consumers can also pay for upcycling services through green points. Participants can use green points to buy seeds from the EWS product catalog and pay for the service to set up an organic kitchen garden in the home. Participants can make compost from kitchen waste like fruits and vegetable scraps, supply their homemade compost to the foundation, and earn green points. In addition, Green Points are awarded as rewards to Project Participants under different projects of the foundation.
Multi-Stake Holder Partnerships
Lack of public awareness of environmental issues is a hindrance to measures led by the Government and other stakeholders to control environmental pollution. To further the project, we are building partnerships, and engaging with the stakeholders at the state, national and international levels to improve public awareness of environmental issues and initiate collective action among citizens to meet the challenges and SDGs.